Autumn – Enjoy The Season
Although we are moving to Florida soon and there is very little change of season there, I love a new season with all the possibilities that it holds for new creation, possibilities, and experiences…
I love Autumn – it is my birth season and it is a season filled with achieving goals, creation, celebration, gatherings with friends and family, and so much more.
The leaves changing…
The cooler temps…
Pumpkins on the porch…
Chili in the crockpot…
Warm tea and spicy, warming essential oils …
As we round the corner into 4th Quarter of 2018, it's a great time to reflect and focus on what we want to create next.
I'd like to share with you a few questions that can help support your creative process as well:
What do you want to experience less of in 4th Quarter? 
What do you want to experience more of in 4th Quarter? 
What aspect of your self care is needing more attention? (Rest, exercise, meditation, nutrition, hydration, spiritual investment, etc.)
What one new habit do you want to establish and nourish in this season? 
What do you want to create, implement, or achieve in your business goals? 
What is one project (home, creative, health) that you've been putting off that you're ready to complete now? 
What brings you JOY and fills your cup?
See yourself as if you're already feeling, achieving, or attracting what you want…paint the picture and review it often. Visualization is a powerful success habit.
Here are my 90 day goals for this season: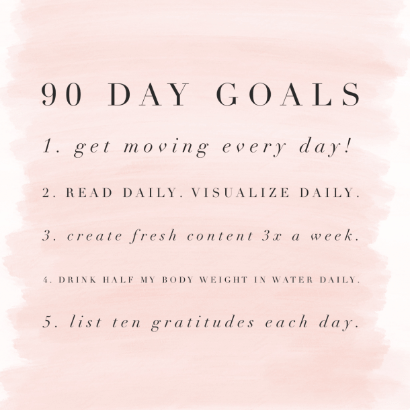 Let me know how your own goals are coming along for you.
I cheer you on in creating a lovely new season for yourself as well.
I'm sending you all the positive vibes for a season that you love and next levels to be achieved.